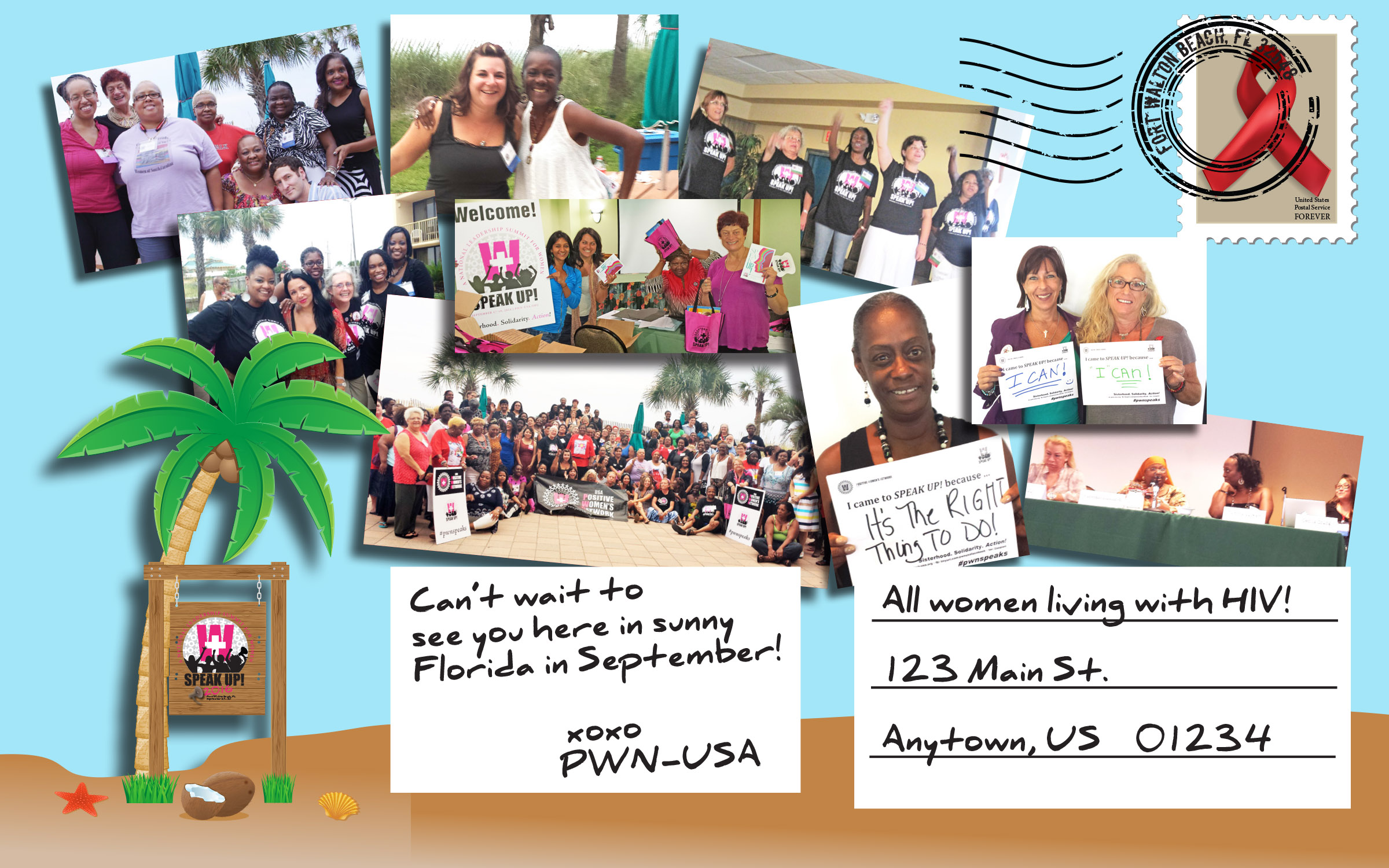 Dear SPEAK UP Summit participant-
Welcome! We are so excited that you will be joining us at the PWN USA SPEAK UP Summit 2016. Whether this is your first summit, or you are returning to join us again, we welcome your participation at this very special event for women living with HIV in the United States. Now comes the hard work! We know that getting every woman living with HIV prepped, and ready to step in to her POWER at Fort Walton Beach requires some resources.  Your shared hotel room, transportation to and from the airport in Ft. Walton Beach, and all main meals are covered for each attendee, but you will likely need some additional spending money for T-shirts, snacks, and shopping at the
Common Threads
shopping area! Here are a few helpful suggestions to help you get the support you need from your local community. These are successful fund-raising examples that several PWN USA Board members shared in their own quest to secure resources for themselves and for the organization.
Using the template provided (the PWN-USA fundraising support letter), ask your local ASO, church, physician, clinic staff, or even family and friends to sponsor you, and a friend for conference registration and travel. (If they sponsor two women for SPEAK UP!, they can be mentioned in the Summit program! Click here for more details.)
Ask a friend who travels frequently, or a family member who flies a lot for their job, to donate some frequent flyer miles to purchase a ticket for you. It really only works if they are willing and able to donate ALL the miles required, and if they agree to purchase the ticket for you directly using their points. How many miles or points it takes to purchase a round-trip ticket depends on many factors. Encourage them to look up the cost now from your home city to Ft. Walton Beach, FL, and book the award ticket ASAP! The closer it gets to September, the more miles or points it may cost them. They will need your full name as it appears on your ID or driver license and your date of birth to book the tickets. You'll be surprised how many people are willing to do this–but you have to ASK! Be prepared to tell people why the summit is important to you and how your attendance will benefit not only you, but also other women in your local community. How will you share the information you learn when you get back home? Remember, sometimes people who travel a lot have earned these miles the hard way, so consider offering something in return. Maybe you can barter a service. Offer to clean their house, babysit, or cook them a special dinner in exchange for their help in getting you to the summit.
Create a personal fund raising letter asking friends and family to sponsor your travel by using a popular site like GoFundMe: https://www.gofundme.com/ or YouCaring: https://www.youcaring.com/.  There are fees associated with these sites but they take credit cards and keep your sponsors up to date. It also enables people to share the link to your fundraising page to people in their social media networks. Several of our members have had success in raising the funds needed to attend conferences and events this way.
Hold a summit Friend-Raising BBQ or other event. Invite your friends and ask for a suggested donation. Take a few minutes to share with the group what you are planning to learn and bring back to your community. Encourage friends to bring their friends too! The more the merrier, and the more people to hear your important message of strength, survival, and power.
Create a HERO group with SWAG. Got to a crafts store, buy mugs or T-shirts, paint a big heart and the word HERO on the mug (you can cheat and use stencils) set up a table at your church or local ASO and sell them for $25. HERO = Helping Everywoman Rise and Organize… or whatever else it may mean to you.
Same idea as above, but with red beads and a silver ribbon, supplies from crafting stores but charge $10 and make a HERO card.
Create a PAY IT FORWARD opportunity. People can sponsor you for $25 (or some other amount). For each of these donations, you will bake cookies and take them to a local hospital or senior citizens home, read or spend time with elderly individuals without families, or walk dogs at a shelter.  Take photos of yourself doing these activities to share later. If you use social media like Facebook, you can acknowledge your donors in by tagging them in a post showing you delivering on your promise. This gives people an opportunity to help you AND to know that someone else will benefit from their kindness.
Other great ideas? Contact Jennie at jsmithcamejo@pwn-usa.org to have them added to this list to help other women get to the Summit!
As you are raising funds, you can also share your excitement about PWN USA and the SPEAK UP Summit with your community and other women living with HIV. The promotional videos made by our members might be helpful! Here are links you can share with potential donors: Again, thank you for your interest in PWN USA's Speak Up Summit.  We look forward to meeting you and reconnecting with so many friends. In sisterhood and solidarity,
The PWN-USA Board of Directors
P.S. Just a quick reminder, please have any funds your raise sent to you, manage them well and be certain to thank people once you come back from the Summit.
Click here to download a fundraising letter template.
 If you would like this letter on PWN-USA letterhead, please contact Jennie at jsmithcamejo@pwn-usa.org.
Click here to learn more about the Summit.
Click here for frequently asked questions about the Summit.
Click here for information about sponsoring or otherwise supporting the Summit.
Click here to register for the Summit or to complete your registration payment.