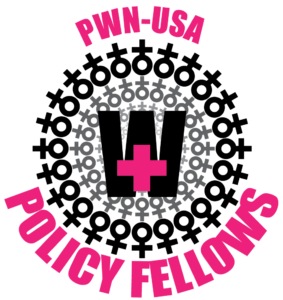 January 12, 2018: Positive Women's Network – USA (PWN-USA) is proud to launch applications for the second year of our Policy Fellowship for women and folks of trans experience living with HIV (WLHIV).The goal of the yearlong Fellowship is to increase participant's ability to engage effectively in federal policy and advocacy. In the current political environment marred by threats to sexual and reproductive rights, basic health care, the social safety net and civil and human rights, it is critical that our community is equipped with a wide array of tools to support vibrant, visionary and strategic advocacy on behalf of their communities.
Join us for a webinar on what it means to be a Policy Fellow and tips for a successful application next Wednesday, Jan. 17, at 3pm EST/2pm CST/1pm MST/12pm PST. Register here.
In recognition that spaces of influence within the federal policy environment have been largely inaccessible to WLHIV, the fellowship curriculum will be rooted within a social justice framework and will apply an explicit gender justice and racial justice lens to the policy and advocacy process as a vehicle for transformative social and political change.

"Becoming a PWN policy fellow was an inspiring and phenomenal experience. It's an experience every woman should embark upon, because you learn so much about policy on many levels that will assist you in knowing your rights and the rights of others," said Stacy Jennings, a current PWN-USA policy fellow. Meet the 2017 Policy Fellows here!
Applicants who are accepted to participate in the fellowship will be required to participate in PWN's 2018 Speak Up! Summit and Policy Fellowship Pre-Institute, April 12-15, 2018 in Myrtle Beach, South Carolina. Travel, lodging and Summit registration fees will be covered for successful applicants. At the Summit, Fellows will be welcomed as members of a growing pipeline of WLHIV, supported through PWN-USA, who are shaping policy at the state and federal level, fighting stigma and discrimination, and generating a new discourse that calls for upholding full rights and dignity for all people living with and vulnerable to HIV.


WHAT CONTENT WILL THE FELLOWSHIP COVER?
Over the course of the fellowship, participants will:
Expand their understanding of the structure of government and how federal policy is developed, implemented and funded;
learn key frameworks for advocacy interventions;
learn to analyze policy;
deepen their understanding of strategies to effect policy change, including grassroots advocacy, effective coalition building,
and learn to build and maintain relationships with policymakers and stakeholders who have influence over the policy-making process.
HOW IS THE FELLOWSHIP STRUCTURED?
The Fellowship period is March 2018 – March 2019; during this time frame, Fellows will participate in a series of interactive web-based and in-person skills-building sessions delivered by PWN staff and other policy experts. Fellows will also collaborate on issue-based teams and will receive coaching from seasoned advocates in the field. Reading assignments and homework will be assigned between sessions.
PROGRAM STRUCTURE
12 web-based policy skills-building training sessions (April 2018-December 2018, see tentative schedule below)
1 in-person training (April 2018, Myrtle Beach, SC), with the possibility of another in-person training (contingent upon funding)
Conference calls with policy coaches
2 web-based coaching sessions (January and February 2019)
Participation in PWN-USA skills building webinars – schedule to be confirmed
KEY DATES & DEADLINES
Fellowship Application

 

Released – January 12, 2018
Fellowship Application Webinar

 

– January 17, 2018 (recording will be available on PWN-USA website)
Application Deadline – February 9, 2018
Fellowship Interviews – February 21-22, 2018
Notification of Acceptance – February 26, 2018
Fellowship Launch & Orientation – March 30, 2018
SpeakUp! Summit Policy Fellowship Institute – April 12, 2018 (Myrtle Beach, SC)
SpeakUp! Summit – April 12-15, 2018 (Myrtle Beach, SC)
PROPOSED SCHEDULE

 


(PARTICIPATION IN ALL ASPECTS OF THE PROGRAM IS REQUIRED FOR SUCCESSFUL COMPLETION)
Web Session 1 – Friday, March 30, 2018
Policy Fellowship Institute – Thursday, April 12, 2018 (in person)

Policy and Government 101 & 102
Web Session 2 – Friday,

 

April 27, 2018

Federal Budget Advocacy – Part 1
Web Session 3 – Friday, May 11, 2018

Federal Budget Advocacy – Part 2
Web Session 4 – Friday, May 25, 2018

Administrative Advocacy & Federal Agencies
REVIEW Session – Friday, June 15, 2018
Web Session 5 – Friday, June 29, 2018

In-District Organizing – Meeting with Legislators
Web Session 6 – Friday, July 13, 2018

Key Frameworks for Advocacy Part 1 – Reproductive Justice and Racial Justice
Web Session 7 –  Friday, August 17, 2018

Key Frameworks for Advocacy Part 2 – Gender Justice and Economic Justice
Web Session 8 – Friday, August 31, 2018

"Porganizing" for Power – Grassroots Policy Advocacy
Web Session 9 – Friday, September 14, 2018

Working in and Building Effective Coalitions
Web Session 10 – Friday, September 28, 2018

Building and Maintaining Relationships with Policy Makers and other Key Stakeholders
Web Session 11 – Friday, October 12, 2018

Policy Issue Based Training
Web Session 12 – Friday, November 16, 2018

Policy Research & Analysis
YEAR END REVIEW Session – Friday, December 7, 2018
Practicum Period – January – March 2019
WHAT DO FELLOWS GET FOR PARTICIPATING?
Fellows will have coaching and mentoring to support their policy advocacy goals, opportunities to attend policy meetings (in person and via conference call), opportunities to engage with national advocacy coalitions, and access to policy experts. Additionally, fellows will have the opportunity to obtain and apply marketable writing, research and organizing skills to support their professional development. Fellows who graduate successfully will receive a certificate of completion at the end of the program.  Travel will be covered and registration fees waived for the 2018 Speak Up! Summit. Applicants who have already booked travel and paid registration fees who are later accepted to the Fellowship will receive a $200 honorarium and will be reimbursed for their travel to and from the Summit with approved documentation of receipts.
ELIGIBILITY
The fellowship is open to all women living with HIV, including women of trans experience. We especially encourage applications from those who are: young, Black, Latinx, immigrant, LGB, trans and gender nonconforming, low-income, and/or reside in the South. All applicants should possess a strong desire to effect meaningful change in the lives of other WLHIV to apply.
We strongly encourage those interested in applying for the 2018 Policy Fellowship to attend next Wednesday's informational webinar at 3pm EST/12pm PST. Register here.