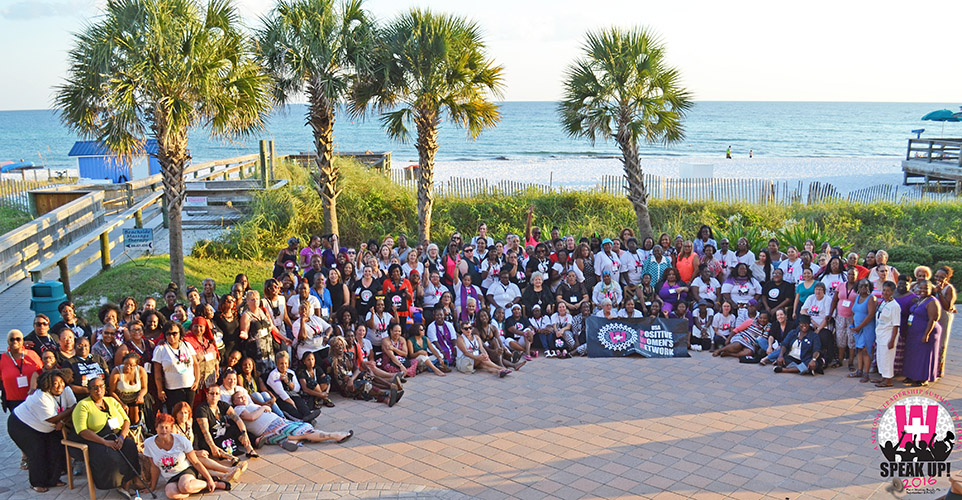 SPEAK UP! is the only national summit by and for women living with HIV.
2018 will be our biggest, best SPEAK UP! yet, building on past successes and bringing skills, leadership development, political education and community to even more women living with HIV.
SPEAK UP! 2018 will be held April 12-15, 2018, in beautiful Myrtle Beach, South Carolina. Registration is open to all women living with HIV, including women of
trans experience, over 18 years of age. Your registration fee of $200 (increases to $250 after Jan. 31, 2018) includes 3 nights of shared accommodations at the DoubleTree Oceanfront Resort, all meals during the Summit and all training materials. This amount does not reflect the true cost of participation in the Summit: We do extensive fundraising to keep the cost low enough to be affordable to as many women as possible, rather than giving scholarships to only a few women.
Registration is open from November 15, 2017, through February 28, 2018. The early-bird rate of $200 is available through January 31, 2018. You may hold your spot with a $100 down payment. Payment must be completed by February 28 in order to continue holding your spot. 
We will be offering individual fundraising tools on our website, and are holding a special Fundraising 101 webinar Tues., Nov. 21, at 1pm EST/10am PST.
Register here.
Questions? Please contact pwnsummit@gmail.com or call 510.698.3811 before making registration payments, as all payments are processed as donations and are therefore nonrefundable.


Registration for SPEAK UP! 2018 is now open! Learn more and register here.

Need to do some fundraising to get there? Here are some fundraising tips.

Want to share your skills and knowledge with other women living with HIV? Present at SPEAK UP! 2018.

Sponsor a group of women living with HIV to attend SPEAK UP! 2018. Learn more and register here.

Support leadership development among women living with HIV by sponsoring SPEAK UP! 2018. Learn more here.

Read the SPEAK UP! 2016 Impact Report here.